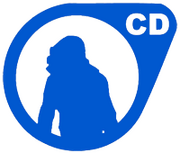 Engine: HL2
Released: December 3, 2005 (EP1), N/A (EP2)
Author: Combine Destiny Team
Combine Destiny is a horror-action single-player modification for Half-Life 2.
Combine Destiny 1
Edit
The town of Coonersville has rebelled. The citizens there have overthrown the security forces and established a base at the top of the mountain. The town was heavily shelled with headcrab canisters, forcing the rebels into hiding. A Combine Overwatch sweeper team cleared the remaining forces and took over the base. The Combine have turned the base into Quiver Mountain Research Facility and Military Installment aka Installation 34.
Recently, the Citadel has lost contact with Installation 34 and the Administrator believes that the underground rebels have resurfaced and retaken the installation. The surface has been shelled, but knowledge of the current situation is vague at best.
The Administrator is regrouping the Transhuman forces for security operations. Support in this mission is therefore light. You are the squad leader for a team being deployed at the farside service hangar. Your mission is to infiltrate the installation, assess the situation and eliminate the underground rebels. Good luck.
Features
Edit
Alternative routes
Played from a combine soldiers point of view
Combine based squads
In-Game Information
Edit
Stunstick
H&K MP-7 Sub-Machine Gun
Frag Grenade
Combine Assault Rifle
USP Match Pistol
SPAS-12 Shotgun
MP-7 Grenade
Rocket Powered Grenade Launcher
AR2 Secondary Energy Orb
Crowbar
.357 Magnum
Crossbow
Characters / Allies
Edit
Combine Dropships
Combine Soldiers
Manhacks
Combine Security Cameras
Combine Ceiling Turrets
Combine Turrets
Combine Prison Guards
Rollermines
Combine Elites
Leeches (in water)
Regular Zombies
Fast Zombies
Headcrabs
Fast Headcrabs
Poison Zombies
Poison Headcrabs
Barnacles
Antlions
Antlion Guards
Resistance Soldiers
Resistance Medics
Vortigaunt
G-Man
Walkthrough
Edit
Combine Destiny 2
Edit
Still in (CD2) development. This sequel will have three chapters, and a couple of new weapons, and more types of Combine allies.
In-Game Information
Edit
H&K MP-7 Sub-Machine Gun
SPAS-12 Shotgun
Combine Assualt Rifle
Combine Sniper Rifle
Manhacks
(More info to come)
Characters / Allies
Edit
Combine Soldiers
Combine Elites
Combine Dropships
City Scanner(s)
Combine APCs (can be drivable)
Strider(s)?
Combine Turrets
(More info to come)
Resistance Soldiers
Resistance Medics
Regular Zombies
Regular Headcrabs
Fast Zombies
Fast Headcrabs
Poison Zombies
Poison Headcrabs
(More info to come)
Walkthrough
Edit
(None yet)
External links
Edit
Ad blocker interference detected!
Wikia is a free-to-use site that makes money from advertising. We have a modified experience for viewers using ad blockers

Wikia is not accessible if you've made further modifications. Remove the custom ad blocker rule(s) and the page will load as expected.