Engine: EP2
Released: Augest 4, 2009
Author: Ross Walker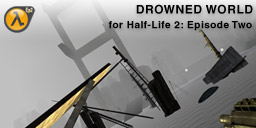 This mod continues from the end of Pyramid and sets the player in a world where the sea is rising.
You encounter almost all of Half-Life 2′s enemies and a great outdoor area.
There is some interesting backtracking and even a bonus map if you are lucky.
There is a sequel to this mod. It was part of the SniperVille competition.
In-Game Information
Edit
Characters / Allies
Edit
Gravity Gun
.357 Magnum
SMG
SMG Grenades
AR2
Shotgun
Energy Orbs
Grenades
RPG
Pistol
Shotgunner Guards
Combine APCs
Metro Police
Combine Guards
Combine Soldiers
Combine Elites
Combine Shotgunners
City Scanners
Combine Snipers
Manhacks
Barnacles
Leeches
Combine Security Cameras
Combine Dropships
Combine Gunship
Ad blocker interference detected!
Wikia is a free-to-use site that makes money from advertising. We have a modified experience for viewers using ad blockers

Wikia is not accessible if you've made further modifications. Remove the custom ad blocker rule(s) and the page will load as expected.