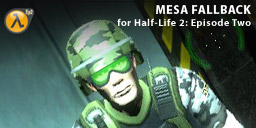 Author: combine-
Released: April 25, 2011
Engine: EP2
This mod takes place during the Black Mesa incident - You take on the role of a HECU Marine as you fight your way through different sections of the facility and carry out varied missions. This is not a rebuild of any game, but features areas from Half-life, Blue Shift & Opposing force in the Half-Life fasion.
In-Game Informaiton
Edit
Beretta M9
MP5 SE
Frag Grenade
Shotgun
Crowbar
M4
.357 Magnum
Rocket Launcher
Gravity Gun
Characters / Allies
Edit
HECU Soldiers
Jets
Tanks
APCs
Apaches
Osprey
G-Man
Sentries
Security Guards (one level)
Scientists (one level)
Rebels (one level)
HECU Soldiers (if shot at)
Zombies
Fast Headcrabs
Fast Zombies
Scientists
Poison Zombies
Vortigaunt Slaves
Security Guards
Zombie Torso
Rebels
Marine Zombies
Antlions
Antlion Guards
Black Ops
Poison Headcrabs
Fast Zombie Torsos
Houndeyes
Manta Rays
Xenian Grunt
Leeches
Mini Combat Drone
Headcrabs
Heavy Combat Drone
Antlion Grub
Ground Turret
Archer
Chumtoads
Stuckabats
Snapbugs
Kingpin
Antlion Guardians
Ad blocker interference detected!
Wikia is a free-to-use site that makes money from advertising. We have a modified experience for viewers using ad blockers

Wikia is not accessible if you've made further modifications. Remove the custom ad blocker rule(s) and the page will load as expected.