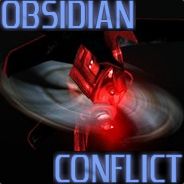 Obsidian Conflict is a cooperative modification created for Half-Life 2. It is a community based mod with focus on fun, cooperative, and physics-related puzzles. The mod has an open story, but is still set in the Half-Life 2 universe.
Coop Half-Life 2 Support
Coop Half-Life 2 : Lost Coast Support
Coop Half-Life 2 : Episode One Support
Coop Half-Life 2 : Episode Two Support
Coop Half-Life 1 : Source Support
Several Counter-Strike Source maps setup with coop storylines
Dynamic Content Mounting
Customizable Hud and Flashlight
New NPCs

Including Old HL1 Npcs (Requires mount)
Episode 2 and 1 Npcs too (Requires mount)
Working Mortarsynth
Defender Scanner (City Scanner with laser)

Scoring System
New Weapons

Including Super Gravity Gun Support
Custom Weapon Scripts

Player Modules including Cloak and Shield
Custom Player Models System
Inventory system
Series maps save your weapons and points over transitions

Objects and npcs can transfer over level transitions and back again
Previous maps in a series of maps are saved, so when you go back to them things stay as you left them. Just like SP Half-Life 2

New Maps
Advanced Customizability for Mappers
Custom per map Sound Scripts, Configuration Files and Soundscapes
Out of Hammer map modification via scripts
Gamemodes Including

Team Coop
Coop Lives
Player vs. Player
Ad blocker interference detected!
Wikia is a free-to-use site that makes money from advertising. We have a modified experience for viewers using ad blockers

Wikia is not accessible if you've made further modifications. Remove the custom ad blocker rule(s) and the page will load as expected.