Engine: HL2
Released: Augest 23, 2006
Author: Ha1fer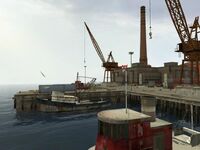 The mod story does not consider events in Half-Life 2: Episode 1. After explosion of citadel, G-man immerses Gordon Freeman in stasis, but after a while deduces it from there for the new mission. The target of this mission is penetration into a citadel which is in City 18 (the city located near to City 17). In this citadel there is a teleport in Combine world. Using this teleport, it is necessary to get in Combine World and to destroy their leader.
In-Game Information
Edit
Characters / Allies
Edit
G-Man
Rebels
Medics
Vortigaunt
Crowbar
Pistol
SMG
Grenades
Shotgun
RPG
AR2
Energy Orbs
SMG Grenades
.357 Magnum
Combine Shotgunners
Zombies
Headcrabs
Combine Helicopters
Combine Soldiers
Combine Gunships
Combine Elites
Combine Cameras
Fast Zombies
Fast Headcrabs
Poison Zombie
Metro Police
Manhacks
Strider
Ad blocker interference detected!
Wikia is a free-to-use site that makes money from advertising. We have a modified experience for viewers using ad blockers

Wikia is not accessible if you've made further modifications. Remove the custom ad blocker rule(s) and the page will load as expected.