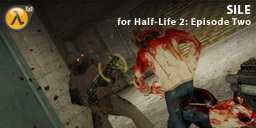 Released: Augest 23, 2011
Author: Sharpentine
Engine: EP2
Finding yourself falling through a vent, you need to work your way to a Combine portal.
This will provide the means for your escape.
Don't rush through, as there are many twists and turns, plus caches to find. Good Luck!
In-Game Information
Edit
Characters / Allies
Edit
Overwatch Voice
Resistance Soldiers
Crowbar
Pistol
SMG
Shotgun
Frag Grenade
SMG Grenade
AR2
.357 Magnum
Crossbow
Rocket Launcher
Zombies
Headcrabs
Combine Soldiers
Combine Shotgunners
Combine Turrets
Manhacks
Combine Elites
Poison Zombies
Fast Zombies
Fast Headcrabs
Zombines
Combine Gunships
Fast Zombie Torso
Hunters
Ad blocker interference detected!
Wikia is a free-to-use site that makes money from advertising. We have a modified experience for viewers using ad blockers

Wikia is not accessible if you've made further modifications. Remove the custom ad blocker rule(s) and the page will load as expected.