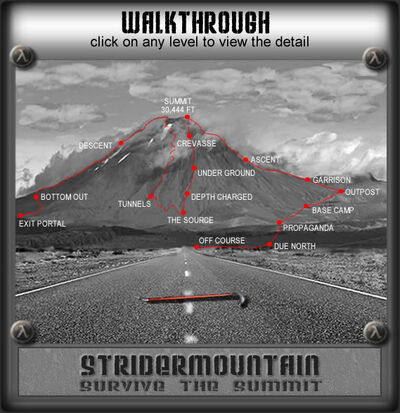 Engine: Half-Life 2
Released Date: September 13, 2009
Author: Spy Interactive
AT 30,000 FEET… you are almost 6 miles (9.7 kilometers) above sea level. The human body is not made for these conditions. Temperatures are can plummet to -60F (-51C), the brain is starved for oxygen and each step is a new experience in pure agony. It's difficult to breathe. It's difficult to think. It's difficult to move. And you still have to endure another 444 feet (0.14 kilometers) to get to the peak. So much for the good news.
The rebels are losing the battle against the strider onslaught that keeps growing. To help turn the tide of war you need to destroy the source of the Striders. That source is at the summit of what the rebels call, Strider Mountain. There is only one way to get into the mountain geography and it's extremely dangerous terrain. The danger proves to be too much and you are forced way off target. Now, you must fight your way through the Combine Mountain Base Camp because it's the only entry to the mountain. As Gordon Freeman, you must survive the summit and destroy the source of the Striders.
In-Game Information
Edit
Mountain Pick
Glock
SMG
Frag Grenades
Assault Rifle
Shotgun
Sniper Rifle
Laser Magnum
Gravity Gun
Missile Launcher
Hopper Mines
Heavy Laser Turret
Characters / Allies
Edit
Isaac Kleiner
Rebel Leader
Resistance Soldiers
Barney Calhoun
Striders
Combine Soldiers
Combine Guards
Civil Protection
City Scanners
Combine Snow Soldiers
Manhacks
Headcrabs
Fast Headcrabs
Poison Headcrabs
Zombies
Fast Zombies
Poison Zombies
Zombie Torsos
Combine Dropships
Combine Gunships
Combine APCs
Combine Helicopters
Antlions
Combine Turrets
Ground Turrets
Rocket Turrets
Antlion Guard
Barnacles
Combine Security Cameras
Ad blocker interference detected!
Wikia is a free-to-use site that makes money from advertising. We have a modified experience for viewers using ad blockers

Wikia is not accessible if you've made further modifications. Remove the custom ad blocker rule(s) and the page will load as expected.